With our state of the art, fully-equipped wine making room and our expert vintners by your side, you'll experience the fun selecting or customizing and bottling your own great tasting wine in as little as six weeks!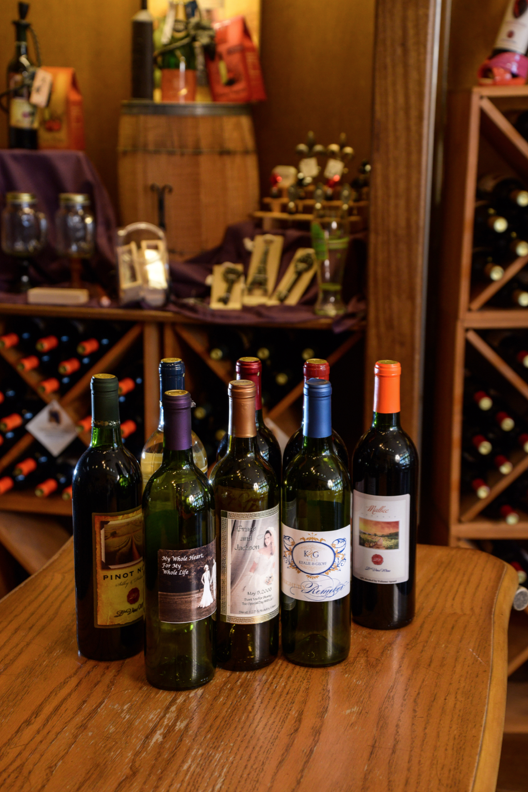 Our Process
Select Wine Type – Come into our winery and decide the type of grape you'd like to ferment. Sample our ready-made stock and consult with our expert wine associates to help you customize your own special wine. You can pick different types of oaks and other natural ingredients to enhance your vintage!
Decide on a bottling party date:  The type of wine will determine how long fermentation will take.  Along with our wine associates, you will select a day for your party.  Invite friends and family to help you bottle and celebrate your wine.
Determine Labeling – Discuss customized labeling options with the D'Vine Wine staff in preparation for your bottling party. Your imagination is the only limit.
You can create your own custom artwork use a picture or pick from one of our ready templates.
Fermentation – D'Vine Wine vintner's will nurture your wine through the fermentation process over the next 6-10 weeks, depending on the type of wine you've selected.
Bottle, Cork, & Label – Once fermentation is complete we will contact you to come back to our winery for the bottling, corking and labeling of your wine. We encourage you to bring friends and make a party out of it! Don't forget the food, bring your own or we can assist with catering.
Take Wine Home – Take your wine home to stock in your personal wine cellar or share with family, friends for weddings or even use for business promotion.

The 6-8 week fermentation process.
Bottling and Corking.
Assortment of top labels.
D'Vine Wine custom wine barrel.
Beginning the fermentation process.
D'vine wine finished product!

Co-Owner, Diane Hedges, introducing new wines to a customer.
Custom Labels
Personalize your wine and make a memorable and lasting impression! Choose from our assortment of standard wine labels or create your very own. Ideal for corporate gifts, wedding souvenirs, customer appreciation gifts, birthday, or any occasion. High end labels (embossed, gold leafed, etc.) are available for an additional charge.
Here is a sampling of labels you can create. When making your own label, the possibilities are endless and limited only by your imagination!